ENOCH WEALTH · Hurun Canada U30s Entrepreneurs to Watch 2022
50 'game-changers' on inaugural ENOCH WEALTH · Hurun Canada Under 30s
Vancouver AND Toronto preferred citIES for HURUN Canada U30s, followed by Montreal and Victoria
RUSSIA-BORN VITALIK BUTERIN, 28, OF ETHEREUM MAKES HURUN CANADA U30S
SINGER JUSTIN BIEBER, 28, MAKES HURUN CANADA U30S
JOSH BAKER, 27, OF Vancouver-BASED FRACTION TECHNOLOGIES MAKES HURUN CANADA U30S
SaaS and Media & Entertainment preferred industries
Graduates of UBC, Queen's, University of Toronto, McGill, University of Waterloo led Hurun Canada U30s
Youngest are Lyn Chen, 23, and Colin Chartier, 24, co-founders of Toronto-based LayerCI
On average THE HURUN CANADA U30S HAVE BUILT COMPANIES WORTH CAD 10 million
22% women
62% selling software & services, 38% selling physical products
54% selling to consumers, 46% selling to businesses
Hurun Research Institute releases first ENOCH WEALTH · Hurun Canada U30s To Watch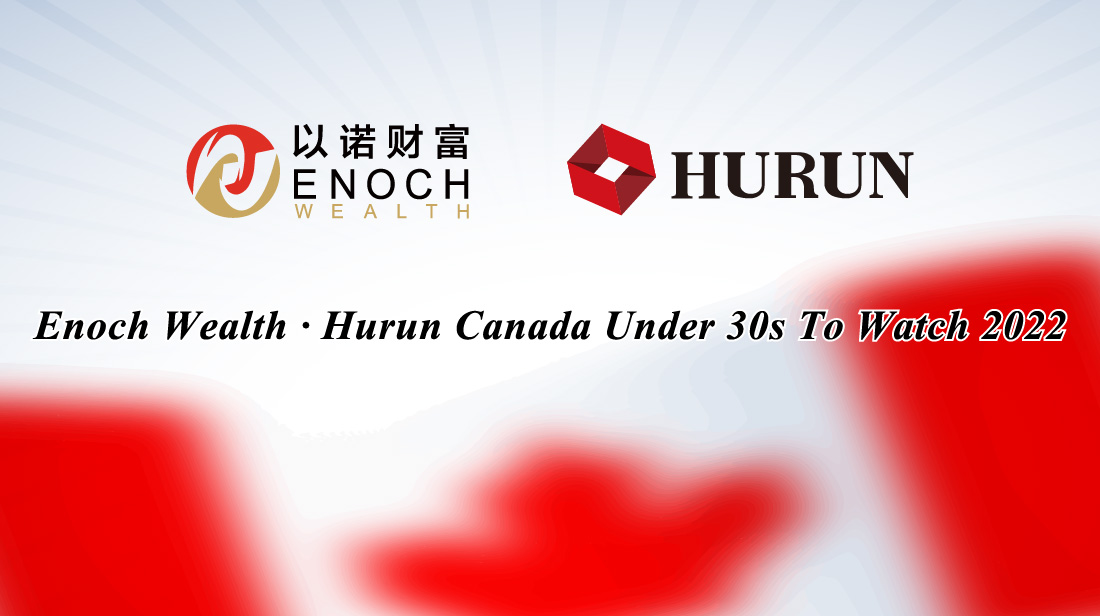 (29 April 2022, Vancouver) The Hurun Research Institute, together with Enoch Wealth, today released the Enoch Wealth · Hurun Canada Under 30s To Watch 2022, a list of Canada's most successful entrepreneurs under the age of 30. This is the first year of the list.
Today in Vancouver, Hurun Report and Enoch Wealth are hosting the 2022 Hurun Canada Business Forum with 1000 guests – discussing Canada's start-up ecosystem, the metaverse and blockchain, medical investments and real estate – followed by a 500-person awards dinner to celebrate the Enoch Wealth · Hurun Canada Under 30s To Watch 2022. Founders of Canada's unicorns and gazelles will be mixing with investors and the movers and shakers of Canada's burgeoning start-up ecosystem. Mark Roswell, aka DaShan and China's best-known Canadian, is hosting the dinner. This is the first event Hurun Report has hosted in Canada since the outbreak of the pandemic, with the previous two events held in Vancouver and Toronto.
This year, 50 individuals from 35 companies made the Hurun Canada Under 30s. On average they set up their current business six years ago and are today 28 years old.
9 out of 10 went to university. 22% or 11 are women.
Rupert Hoogewerf, Hurun Report Chairman and Chief Researcher, said: "The world needs entrepreneurs today more than ever. First to help rebuild the economies post-Covid and second to found businesses in this 5G and AI-led technological revolution. Hurun has been promoting entrepreneurship for the past twenty years, and I hope the Hurun Canada Under 30s To Watch can give recognition to some of Canada's most talented young entrepreneurs. Investors, local governments and bigger companies are all looking to find the next big thing, to find the next Shopify."
"Canada's a great place for startups. People don't have to go to the US if they have a powerful idea. They can develop it, get the funding and other support they need, and – if it's digital – take it worldwide, as the best of its new businesses show."
"I am delighted to partner with Vancouver-based wealth management platform Enoch Wealth to celebrate the best of Canada's young entrepreneurs, the Enoch Wealth · Hurun Canada Under 30s To Watch 2022."
"The power of the alumni network is worth being aware of, especially for Canada's top universities and business schools. Graduates of UBC, Queen's University, University of Toronto, McGill's and Waterloo led the way."
"If you are looking to predict the future of Canada's economy, look no further than the industries the top young entrepreneurs from the Enoch Wealth · Hurun Canada Under 30s To Watch."
"This is the year of SaaS platforms, with Canada's top young entrepreneurs building businesses in this field, as well as Media & Entertainment."
"It is worth watching these young game changers. A quarter of this year's Hurun Canada Under 30s To Watch have raised more than CAD$5 million already. Imagine what some will go on to do over the next thirty years."
Nevin Xu, CEO of Enoch Wealth, said: "Enoch Wealth is honored to work together with Hurun Research Institute to jointly release the Enoch Wealth · Hurun Canada Under 30s To Watch 2022. The rise of China's economy is changing the distribution pattern of the wealth of global high asset customers, and the continuous integration of Chinese into overseas residence is also changing the social status of overseas Chinese to a great extent. Enoch wealth is stationed in North America to comply with the development of the times and lead and explore overseas Chinese to realize the accumulation and inheritance of wealth in the challenge of global economy. All employees adhere to the three working principles of 'professionalism, prudence and focus', take risk management as the cornerstone, and adhere to seeking long-term value investment for high asset customers. The company strictly abides by regulations, pays attention to supervision, keeps pace with the times, brings value to the long-term development of Chinese overseas and grows together with customers. "
By Industry
Geographical Distribution
Two-thirds of the Hurun Canada U30s are headquartered in Vancouver or Toronto, followed by Montreal with 6.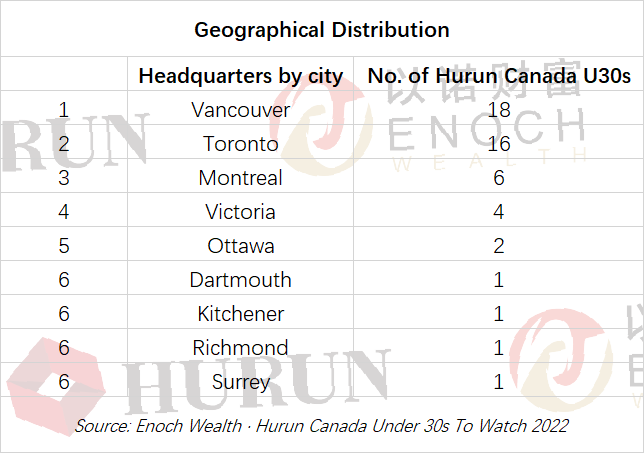 By University
UBC graduates led the Hurun Canada U30s.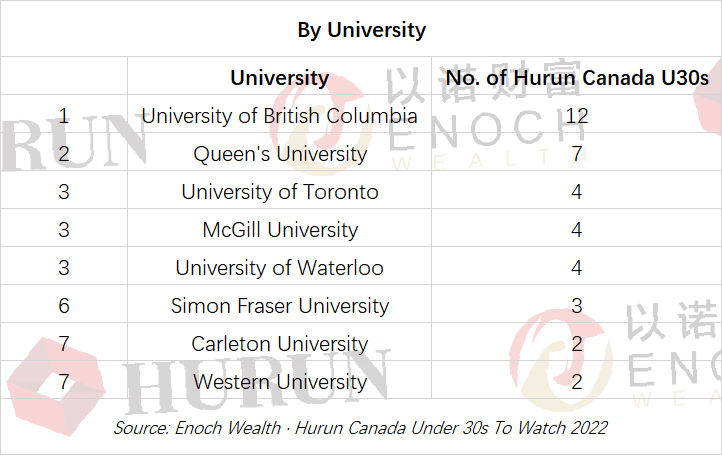 Key Investors
Montreal-based Panache Ventures was the most successful investor into the Hurun Canada U30s, investing into 5 of them, followed by California-based 500 Startups and Y Combinator.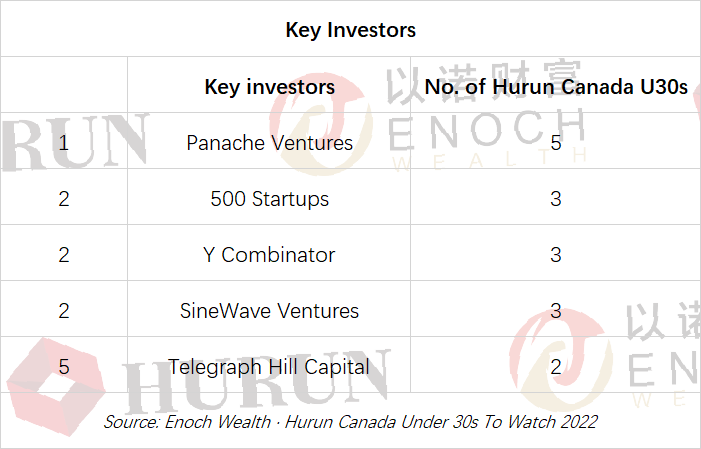 Methodology
The Enoch Wealth · Hurun Canada Under 30s To Watch 2022 aims to identify Canada's top entrepreneurs aged 30 or under. This year's cut-off for the age limit was 1 May 1991.
The main source of candidates was from the investor community, cross-checked against media, government and other databases. Key selection criteria included the growth of the company's key metrics, especially its valuation, as well as the position of its industry. Hurun Report short-listed about 100 candidates from a pool of well over 300 candidates, with 50 making the final cut.
Enoch Wealth · Hurun Canada Under 30s To Watch 2022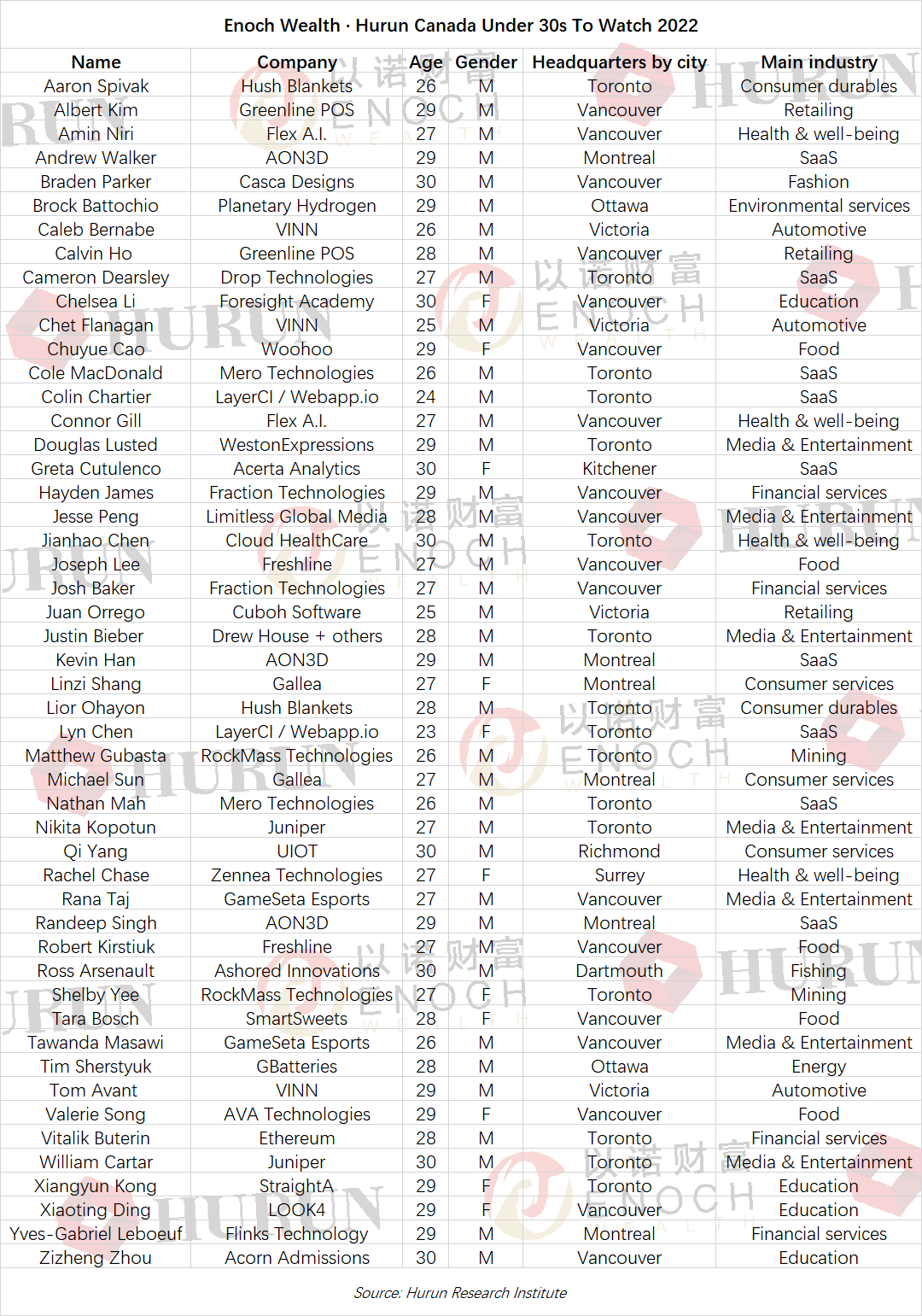 Vitalik Buterin is a Russian-Canadian and one of the co-founders and one of the inventors of Ethereum, a decentralized mining network and software development platform that supports the second largest cryptocurrency in the world. He attended the University of Waterloo and has an honorary doctorate from the Faculty of Business and Economics from the University of Basel. In May 2021, he donated US$1 billion in cryptocurrencies to a COVID-19 relief fund in India.
Justin Bieber is best known as a pop star, but he has also started a number of successful businesses. Originally from Canada, he splits his time between Los Angeles and his hometown in Ontario. His business include a clothing firm, Drew House, and, most recently, Peaches, a cannabis company.
Cameron Dearsley co-founded and is head of design at Drop Technologies, a loyalty-management program aimed at millennials. He is also an active angel investor. Toronto-based Drop has attracted more than $56 million in investment, including from Royal Bank.
Greta Cutulenco founded Acerta Analytics, a Kitchener, Ontario machine-learning company that has attracted $11 million in investment to develop technology used in the manufacturing and automotive industries.
Joseph Lee and Robert Kirstiuk co-founded Freshline. The Vancouver-based company has raised $2.2 million to build an online marketplace for commercial fishermen and other suppliers of fresh food. Lee studied computer science at the University of British Columbia and Kirstiuk, who is also a Thiel fellow, studied physics and finance at Western University. Both studied entrepreneurship at the University of Toronto.
Randeep Singh, Kevin Han and Andrew Walker co-founded AON3D to develop 3D printers that use high-performance materials and produce affordable high-strength parts. The trio met while studying engineering at Montreal's McGill University. They founded the company in 2015, right out of university. So far, the company has raised funding of more than $13.4 million.
Nikita Kopotun co-founded e-commerce company Juniper in 2016 with William Cartar, Joel Wegner and Ryan Wong to manufacture products that could help social media influencers build their brands through merchandising. Juniper had revenues of US$31 million in 2020. Originally from Winnipeg, Kopotun studied engineering physics at Queen's University.
Lyn Chen and Colin Chartier launched webapp.io – then known as Layer CI - in 2019. Its mission is "to help technology-forward businesses disrupt their industries" by building useful products that challenge the status quo and reinvent the way people work – specifically by helping developers improve their code faster. Their Y-Combinator, Toronto-based firm has received total funding of $1.2 million. Chen is a Thiel fellow.
Matthew Gubasta and Shelby Yee co-founded RockMass Technologies to give geologists tools to collect structural data for mines and tunnels. Gubasta studied economics and Yee studied geological engineering, both at Queen's University in Ottawa. The company has raised more than US$3 million.
Serial entrepreneur Aaron Spivak co-founded Hush Blankets in 2018 with Lior Ohayon in Toronto. The company makes weighted blankets that help people sleep better. Both partners dropped out of university before graduating. Hush has investment of $1.6m and reports annual revenues of $19 million. In October 2021 Sleep Country bought a controlling share for CAD$25 million.
Tara Bosch launched SmartSweets to produce candy products that helped people give up sugar. The Vancouver company raised more than US$3 million, then on 2020 was sold to TPG Growth for a reported $360 million. Bosch, who has a BA from the University of British Columbia, remains with the company.
Linzi Shang and Michael Sun co-founded the art and e-commerce company Gallea in Montreal along with Guillaume Parent and Samuel Bellerose. The company came out of the MTLab incubation program, which focuses on entertainment, tourism and culture. The company has raised more than US$1.3 million in early funding rounds.
Caleb Bernabe, Chet Flanagan and Tom Avant co-founded automotive e-commerce platform VINN Automotive Technologies in 2018. The Victoria, British Columbia, company has raised more than $2.2 million. The trio founded the company to make car-buying more satisfying after Bernabe and Flanagan worked at one of Canada's largest auto dealers.
Hayden James and Josh Baker co-founded Fraction Technologies in Vancouver, British Columbia, to make borrowing for residential real estate more affordable, flexible and liquid. The company has raised almost CA$290 million in funding.
Brock Battochio founded environmental company Planetary Hydrogen in 2019 to commercialize a patented system that speeds up the natural process of removing carbon dioxide from the atmosphere. The Ottawa company has raised $4.5m in funding. In 2021 it made its first carbon removal sale to Shopify with a plant due to start up in 2022.
Tim Sherstyuk is chief commercial officer and co-founder of GBatteries, a company that develops and markets ultra-fast charging batteries for electric vehicles. The Ottawa-based company has raised US$3.9 million in funding. The company came out of the Y Combinator program in 2014 while Sherstyuk studied chemistry and Carleton University.
Douglas Lusted is founder of WestonExpression, a company that owns two other companies he co-founded, Linkett, a Toronto company that provides an analytics platform for the digital-out-of-home advertising industry he cofounded, and AdStash, a company that helps other businesses earn passive income from advertising. Linkett has raised US$1.2 million in funding. Lusted studied business at the University of Waterloo.
Juan Orrego is co-founder and CEO of Cuboh Software, an online restaurant ordering and management platform. Orrego participated in the Y Combinator program in 2019 after graduating with a degree in commerce and entrepreneurship from the University of Victoria. The company has raised US$1.4 million.
Valerie Song is co-founder and CEO of AVA Technologies, a company that helps people grow fresh food indoors. AVA's technology allows the year-round growing of herbs and vegetables. It has raised $2.3 million to date.
Yves-Gabriel Leboeuf is founder and CEO of Flinks Technology, a Montreal-based fintech company that has raised more than $93 million. Leboeuf is a serial entrepreneur that has founded multiple companies. The first was a bicycle retailer when he was 17. Flinks develops tools for the financial industry to better access data.
Cole MacDonald and Nathan Mah are co-founders of Mero Technologies in Toronto. The pair have raised more than $3 million for the company that develops bathroom cleanliness monitoring technology from investors like 500 Startups, Fresco Capital and IX Labs.
High school friends Amin Niri and Connor Gill co-founded Flex A.I., a digital technology company that developed an app to optimize and individualize workouts based on a patented algorithm. Established in 2018, the company has raised more than C$2 million to date.
Braden Parker co-founded Casca Designs, a Vancouver-based footwear company that uses 3D scans to ensure its products fit, in 2017. To date the company has raised $3.5 million in funding. Parker studied commerce and real estate at the University of British Columbia.
Rachel Chase is CEO and co-founder of Zennea Technologies, maker of a wearable device which helps people with sleeping disorders. Founded in 2017, Zennea's device is undergoing clinical trials The company has raised an undisclosed amount of funding from investors including Elevation Investments, WUTIF, SOSV and HAX.
Tawanda Masawi and Rana Taj co-founded GameSeta Esports, an online platform that provides e-sports infrastructure to high school, in 2019. Zimbabwe-born Masawi and Pakistan-born Taj, met at Simon Fraser University. In January 2021 they sold their company to Los Angeles-headquartered PlayVS.
Ross Arsenault is co-founder and COO at Ashored Innovations. Founded in 2018, Ashored develops technologies to enable sustainability for the commercial fishing industry from its home base in Dartmouth, Nova Scotia.
Calvin Ho and Albert Kim co-founded Vancouver-based Greenline, a company that provides point-of-sale and e-commerce solutions for the cannabis industry. Ho was born in Taiwan and Kim in South Korea. The pair met in high school long before starting the software-as-a-service company with revenues of more than $2 million since 2019.
Chen Jianhao is founder of Cloud HealthCare, graduated from the University of Toronto with a PhD in Pharmacy. Cloud Healthcare was founded in 2018, with Canadian Chinese health as the core, integrating online and offline high-quality medical resources, and building a new Canadian medical ecosystem. Annual operating income of CAD 25 million.
Ding Xiaoting is the founder of LOOK4, a student entrepreneurship education group dedicated to providing an all-rounded academic services for all Chinese students in North America. In 2018 and 2019, two cumulative financings of CAD 2 million were completed. Operating income of CAD 18 million.
Xiangyun (Elaine) Kong is the founder and CEO of Straight A Education Inc, an edu-tech company headquartered in Toronto. Currently committed to helping clients to enter the world's top universities graduate programs. Since 100% of company's clients got into top 100 world ranking universities, Elaine Kong is honored as "The Knocker of World Famous Universities". In 2020, the company received an angel investment of CAD 1.2 million, and its revenue in 2021 hit CAD 3 million.
Jesse Peng is the CEO and sole angel investor of Limitless Global Media Group, closing a US$300,000 seed round. Peng brings his experience as a computer engineer, serial entrepreneur, and experience as a real estate investor managing his family's CAD 100 million real estate portfolio in Canada over the past decade to the Limitless team.
Qi Yang is the founder and managing director of UIOT Smart Home, a pioneer in North American smart home service provider. UIOT is committed to providing high-quality smart home products and services in North America, elevating home automation to a new level. In 2019, the pre-a round of financing of CAD 1.5 million was completed.
Cao Chuyue is the founding partner of Woohoo, a multinational enterprise with chain restaurants as its main business. The company is building a central supply chain in Canada, and has obtained CAD 5 million in financing from a well-known Canadian angel, and has signed contracts with dozens of restaurants and supermarkets.
Zhou Zizheng is the CEO of Acorn Admissions, which focuses on providing high-quality international education and immigration one-stop services for the majority of international students. In 2018, the angel invested CAD 1 million, and the Canadian North American incubator and Ginkgo Capital are currently introducing strategic investment for it.
Chelsea Li is the founder of Vancouver's Foresight Academy, graduated from Parsons School of Design in New York with a degree in Fashion Design. Founded in 2016, Foresight has assisted Canadian students to acquire more than 150 offer letters from the world's top art institutes, with a cumulative scholarship of RMB 26 million.
About Enoch Wealth
Enoch Wealth, founded in 2015, is a securities financial institution approved and regulated by British Columbia, Canada and the Commission of securities and exchange of Europe and the United States. Securities institution code: 51660. Enoch Wealth is committed to providing first-class investment targets and diversified channels for high-net-worth customers.
A professional team of more than 100 people provide diversified investment options according too customer needs. The strict risk control and compliance process in the middle and back office helps support the project party and the client.
As the country's leading EMD, Enoch Wealth has become a bridge connecting Chinese capital and high-quality investment projects in North America.
About Hurun Inc.
Promoting Entrepreneurship Through Lists and Research
Oxford, Shanghai, Mumbai, Sydney, Paris
Established in the UK in 1999, Hurun is a research, media and investments group, promoting entrepreneurship through its lists and research. Widely regarded as an opinion-leader in the world of business, Hurun generated 6 billion views on the Hurun brand last year, mainly in China and India.
Best-known today for the Hurun Rich List series, telling the stories of the world's successful entrepreneurs in China, India and the world, Hurun's two other key series include the Hurun Start-up series and the Hurun 500 series, a ranking of the world's most valuable companies.
The Hurun Start-up series begins with the Hurun U30s, an awards recognizing the most successful entrepreneurs under the age of thirty, and is today in seven countries. Next up are Hurun Cheetahs, Chinese and Indian start-ups with a valuation of between US$300mn to US$500mn, most likely to go unicorn with five years. Hurun Global Gazelles recognize start-ups with a valuation of US$500mn to US$1bn, most likely to go unicorn within three years. The culmination of the start-up series is the Hurun Global Unicorn Index.
Other lists include the Hurun Philanthropy List, ranking the biggest philanthropists, the Hurun Art List, ranking the world's most successful artists alive today, etc…
Hurun provides research reports co-branded with some of the world's leading financial insitutions, real estate developers and regional governments.
Hurun hosted high-profile events in the last couple of years across China and India, as well as London, Paris, New York, LA, Sydney, Luxembourg, Istanbul, Dubai and Singapore.
For further information, see www.hurun.net.
For media inquiries, please contact:
Hurun Report
Porsha Pan
Tel: +86-21-50105808*601
Mobile: +86-139 1838 7446
Email: porsha.pan@hurun.net
Grace Liu
Tel: +86-21-50105808
Mobile: +86 136 7195 4611
Email: grace.liu@hurun.net