HURUN GLOBAL VENTURE CAPITALISTS 2022 HALF-YEAR REPORT
IN SEARCH OF PROLIFIC INVESTORS INTO THE WORLD'S UNICORNS AND GAZELLES
SEQUOIA CAPITAL MOST SUCCESSFUL UNICORN AND GAZELLE INVESTOR IN WORLD, INVESTING INTO 328 OF WORLD'S TOP START-UPS, UP 43.
SOFTBANK, WITH 217 UNICORN AND GAZELLE INVESTMENTS, OVERTOOK TIGER GLOBAL TO SECOND PLACE. BETWEEN THEM, TOP THREE VCS INVESTED IN 38% OF WORLD'S KNOWN UNICORNS AND GAZELLES.
TENCENT FOURTH WITH 122, FOLLOWED BY CICC, ACCEL, Y COMBINATOR, ANDREESEN HOROWITZ, INSIGHT PARTNERS AND LIGHTSPEED ROUNDING OUT TOP TEN.
1933 UNICORNS AND GAZELLES IN WORLD TODAY
WORLD'S LEADING COMPILER OF START-UP DATA RELEASES HURUN GLOBAL VENTURE CAPITALISTS 2022 HALF-YEAR REPORT
(6 September 2022, Shanghai, China & Mumbai, India) The Hurun Research Institute today released the Hurun Global Venture Capitalists 2022 Half-Year Report, a ranking of the world's most successful venture capital investors based on the number of unicorns and gazelles in their portfolio. The cut-off date used was 30 June 2022. Hurun Research has been tracking unicorns and venture capitalists since 2017.
Unicorns and gazelles represent the cream of the world's start-ups. Both are start-ups founded in the 2000s and not yet listed on a public exchange. A unicorn has a valuation of over US$1bn, whilst a gazelle is worth over US$500mn and most likely to 'go unicorn', i.e. hit a valuation of US$1bn, within three years.
There are 1933 unicorns and gazelles in the world today, of which 1312 are unicorns and 621 are gazelles.
Unicorns. Hurun Research found 1312 unicorns in the world, up 24% in the last half year in numbers and 11% in value to US$4.1tn. The world's unicorns come from 48 countries, up from 42, spread around 259 cities, up from 221. Unicorns are disrupting financial services, business management solutions and healthcare. They are 8 years old on average.
Gazelles. Hurun Research found 621 Gazelles in the world, based in 33 countries and 151 cities. On average, they were set up in 2015, with the vast majority selling software and services, with only 26% selling physical products. 58% are selling to businesses, whilst 42% are consumer-facing. Gazelles were disrupting healthcare, financial services and business management solutions.
Over US$600bn of venture funds were invested globally last year, nearly ten times the level a decade ago.
Hurun Report Chairman and Chief Researcher Rupert Hoogewerf said: "The Hurun Global Venture Capitalists is targeted at investors who are looking to know which venture capitals houses are best at identifying the current crop of fastest-growing start-ups in the world. Investors include high net worth individuals, such as those from the Hurun Global Rich List, as well as pension funds and government sovereign wealth funds. The number of blockbuster start-ups from the likes of the Hurun Global Gazelle Index and Hurun Global Unicorn Index has led to investors allocating a larger part of their portfolio towards start-ups."
"The opportunity for innovation remains vast. The impact of technology is no longer just in computers but across all parts of the business world. Venture capitalists play a critical part in the start-up ecosystem, bringing money, advice and connections to help start-ups grow into global-scale business."
"It's easy to see the influence of Silicon Valley, with San Francisco topping the headquarters for Hurun Global Venture Capitalists and both Menlo Park and Palo Alto making the Top 5. Venture capital as an industry started out in the seventies just as Silicon Valley was gaining steam. The mid-nineties was the next boom, also in Silicon Valley, followed by the boom in China after 2005."
"For most investors, managing to find just one of the Hurun Unicorns or Hurun Gazelles is enough for a lifetime, but the Hurun Global Venture Capitalists make it look easy, investing into hundreds of the world's current crop of best start-ups. They have shown that they are not just a one-trick pony, getting lucky once with a big win and then coasting on their reputation."
"How do these Venture Capitalists attract the best deals? Gone are the days of the sea of platitudes about believing in, thought-partnering, pushing the world forward, and any number of other well-meant banalities. Now is the era when their genuine expertise translates into value add for founders, especially helping them with recruitment, strategy and a war chest to grow."
"Becoming a partner in one of the Hurun Global Venture Capitalists is the pinnacle of the venture capital world."
"A successful start-up ecosystem requires rolemodels, both individuals, such as those from the Hurun Rich Lists, and companies, such as those from the Hurun 500 most valuable companies series. Attracting the best investors, who bring with them their experience as well as their cash, plays a critical role. If a city or country can attract the world's most successful entrepreneurs, companies and investors to set up shop there, that will have a roll-on effect. Entrepreneurship is infectious and cities with lots of rolemodels are likely to attract the brightest and best young entrepreneurs. It becomes a self-fulfilling prophesy."
"Hurun is committed to promoting entrepreneurship through its lists and research. Hurun's 'startup series' has four main components. It begins with the Hurun U30s Entrepreneurs to Watch, a list of the top entrepreneurs under the age of 30. Next up are two 'future unicorn' lists: Hurun Cheetahs, most likely to 'go unicorn' within 5 years and currently with a valuation of over US$300 million, and Hurun Gazelles, most likely to 'go unicorn' within 3 years and currently with a valuation of over US$500 million. The Hurun Global Unicorn Index is the pinnacle of the world's start-ups. Behind all these start-ups lie the Hurun Global Venture Capitalists, the 'entrepreneurs behind the entrepreneurs."
Top 10 Most successful Venture Capitalists in the world
Silicon Valley-founded Sequoia Capital is the most successful start-up investor in the world, investing into 328 of the world's unicorns and gazelles, up 43 from last year.
Table 1: Hurun Global Venture Capitalists – Top 10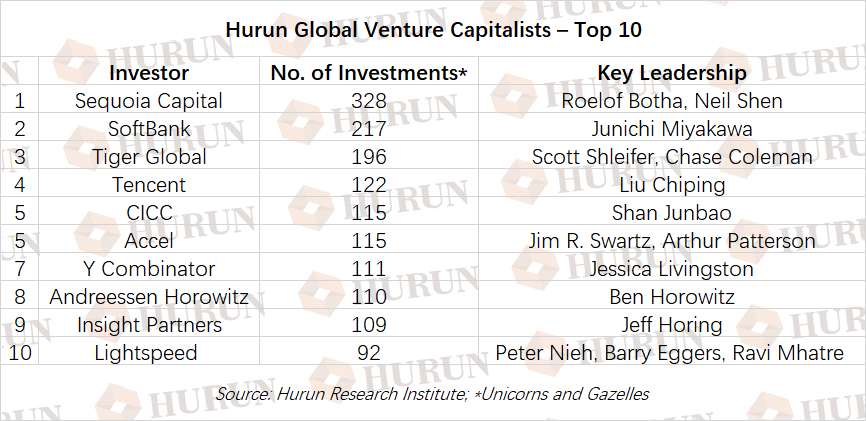 Sequoia Capital is top by a long shot, investing into 328 of the Hurun Global Unicorns and Gazelles, up 43 in 6mths. Key bets include ByteDance, Shein, Vision Energy, Canva, Stripe, Instacart, Chime, FTX, BYJU's and Citadel Securities. Investment legend Don Valentine founded Sequoia Capital in Menlo Park 50 years ago, just as the term 'Silicon Valley' was being coined, and winning big with the likes of Google. Today, Sequoia Capital includes Sequoia USA/Europe, Sequoia China, and Sequoia India/Southeast Asia, three independently operated localized funds. Sequoia China was founded in 2005 by Neil Shen Nanpeng and Sequoia Capital.
SoftBank. Japan's SoftBank has invested into 217 Unicorns and Gazelles, helping it overtake Tiger Global to second place. Legendary founder Masayoshi Son is known for placing big bets on start-ups, making his name especially with Alibaba. Other recent notable investments include Revolut, OYO, Better.com, Automation Anywhere, Biofourmis, Kushki, Material Bank, Agile Robots, and Ola Electric. Recently, the fund exited from Fair, Grab, Paytm, PolicyBazaar, WeWork, and VTEX, and has invested into Merama, Incode Technologies, Ola Electric, Sorare, and Naver Z.
Tiger Global. New York-based Tiger Global manages over US$20 billion and benefitted from the rise in share prices of tech companies such as Zoom during the pandemic. Founded in 2001 by Chase Coleman III, Tiger Global was one of the earliest VCs to invest in start-ups across the world and is known for its fast decision-making and so-called 'Tiger Vouchers', that give its portfolio access to services from world-class consultants. Notable Unicorns in its kitty include Databricks, Brex, Checkout.com, Stripe, Dream11, BlockFi, and ServiceTitan. Tiger Global lately exited from Delhivery, SenseTime, Deliverr, Dave, and Samsara. While it took a stake in Cribl, Viz, CertiK, Oxyzo, Getir, Helium and DealShare. Together with Sequoia and SoftBank, Tiger Global makes up the 'Big Three' Venture Capitalists.
Tencent Investment. Shenzhen-based Tencent Investment seems to be the odd-one out in the Top 10, in that it is a corporate venture arm of a one of the world's largest tech companies Tencent Holdings. The firm prefers to invest in the wireless internet, new media, online games, social networks and e-commerce sectors. It has funded more than 1,300 companies worldwide to date, including Scalapay, Blockstream, CMR, Surgical, Discord, GO-JEK, Lydia, Nowports and Swiggy. In the past few months, Tencent Investments sold its stakes in SoundHound, Zhihu, Nubank, PolicyBazaar, and Udemy, and took stakes in Jeeves, Scalapay, Lydia, Xiaohongshu, and QuintoAndar.
CICC Capital is 5th, having invested into 115 of the Hurun Global Unicorns and Gazelles, up 55. Headquartered in Beijing, CICC Capital was founded in 2017 and has grown into one of China's leading private investment managers. CICC has invested in unicorn companies such as United Imaging and Horizon Robotics, as well as gazelle companies such as CH Biomedical and Dera.
Accel. Founded in 1983 in Palo Alto by Jim Swartz and Arthur Patterson, made its name especially with Facebook and today has a strong global outreach.
Y Combinator. Founded in 2005 by four partners, led by Paul Graham and Jessica Livingstone, Y Combinator had early successes with Dropbox, Airbnb, Stripe, Doordash, Teespring, Heroku, Optimisely and Reddit. The Y Combinator motto is 'Make something people want'.
Andreessen Horowitz. Menlo Park-based Andreessen Horowitz was a late comer to the venture capital party, starting out only after the financial crisis in 2009 when seasoned entrepreneurs Ben Horowitz and Marc Andreessen came together but has grown aggressively into a Top 10 player. Early hits included Facebook, Instagram, Twitter, Skype, Okta and Slack.
Insight Partners. New York-based Insight, founded over 25 years ago, has almost US$100 billion in total assets under management. Prominent portfolio hits include FTX, Automattic, Checkout.com, Databricks, BigPanda, BlaBlaCar, Dataiku, and Sisense. Insight Partners' latest portfolio exits include Zenefits, Salesloft, Nextdoor, WeWork, and SentinelOne. Meanwhile, they invested in Abnormal Security, Coda Payments, Viz, Unit, and CertiK.
Lightspeed Venture Partners. Menlo Park-based Lightspeed started out after the dotcom bubble burst in 2000. Early successes were built around enterprise software, including Nimble Storage, Nutanix, MuleSoft and AppDynamics, but it was Snapchat that really made its name. Lightspeed has grown into China with James Mi and India with Bejul Somaia.
Points of interest
Strong first half of year. In the first six months of the year, China-based CICC added 41 unicorns to its portfolio, while SoftBank added 34, Sequoia added 28, and Temasek added 26 unicorns. In the same period, Sequoia, CICC and Y Combinator added 15, 11 and 11 Gazelles to their portfolio.
Where are they headquartered? San Francisco has been the preferred city for the Hurun Global Venture Capitalists, with 23 investors headquartered there, followed by New York with 17, Menlo Park with 16, Beijing fourth with 15 and Palo Alto fifth with 14.
Where is their footprint? When looking at the offices these investors have, it tells a much more diversified story. Whilst San Francisco is still top with 30 offices there, these investors have 29 offices in Beijing, 26 in Shanghai and 24 in New York.
Table 2: Office Footprint of Hurun Global Venture Capitalists
Average age of 26 years. Majority of them were founded around 1995, with the oldest them being Goldman Sachs in 1869 and the youngest Durable Capital Partners in 2019.
By Country of Origin
Whilst the vast majority of the Hurun Global Venture Capitalists were originally founded in the US, many of them, like Sequoia, have local partnerships in China and India and other parts of the world.
Table 3: Country of Origin of Hurun Global Venture Capitalists
Breakdown by Unicorn vs Gazelle investments
Sequoia Capital leads both for Unicorns and Gazelles, whilst SoftBank, Tencent, Accel, and Y Combinator made the top 10 for both Gazelles and Unicorns. Up and coming investors to watch, that are especially strong in Gazelle investments include CICC, Matrix Partners, Qiming Venture, GGV Capital and Lightspeed.
Table 4: Most Successful Investors in the World 2022 – Breakdown by Unicorns and Gazelles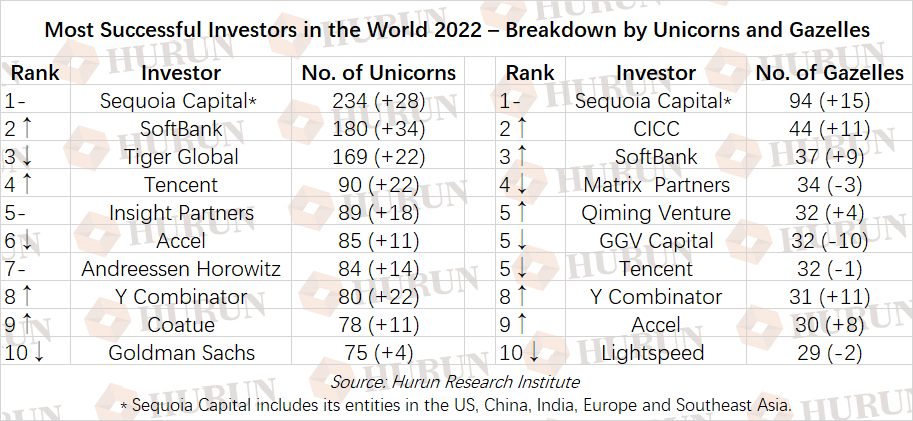 Top 10 Unicorns
Table 5: Hurun Global Unicorn Index 2022 Half-Year Report TOP 10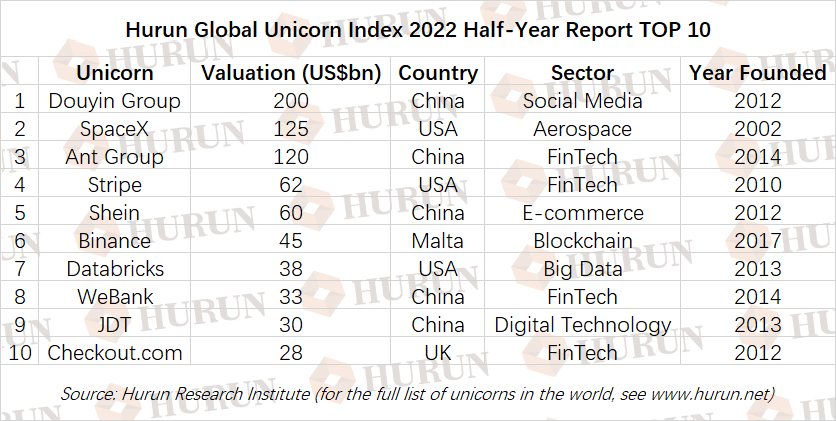 Comparison between Gazelles, Unicorns and Global 500
A Gazelle is a start-up founded in the 2000s, worth over US$500mn, not yet listed on a public exchange and most likely to 'go unicorn', i.e. hit a valuation of US$1bn, within three years. The Hurun Global 500 is a list of the 500 most valuable non state-controlled businesses in the world.
The pipeline for the Hurun Global 500 is the Hurun Global Unicorn Index and the pipeline for the Hurun Global Unicorn Index is the Hurun Global Gazelle Index. From this, we can see how China and India have a higher percentage of Gazelles and Unicorns, which over the course of 5 years ought to translate into a higher percentage of Global 500s. In the same way, Germany, France and Canada have a smaller percentage of start-ups, which suggests they will lose ground in the Global 500.
Table 6: Comparison of Hurun Gazelles, Unicorns and Global 500 by country
By city, San Francisco, Shanghai, Beijing, Shenzhen and Bengaluru have more start-ups, suggesting they will have more Global 500s within five years.
Table 7: Comparison of Hurun Gazelles, Unicorns and Global 500 by city
By industry, healthcare and business management solutions ought to grow into Global 500 companies.
Table 8: Comparison of Hurun Gazelles, Unicorns and Global 500 by industry

Companies selling software & services and directly to businesses, rather than consumers, are on the up.
Table 8: Comparison of Hurun Gazelles, Unicorns and Global 500 by product and consumer

Methodology
The Hurun Global Venture Capitalists is compiled by the Hurun Research Institute, ranking investors according to the number of unicorns and gazelles that they have invested into. Cut-off for this year's index was 30 June 2022.
Hurun Research began with the Hurun Global Unicorns Index 2022 and Hurun Global Gazelles 2022, listing the world's most successful start-ups. Hurun Research then analysed the number of these start-ups that investors had in their portfolio. The result was the Hurun Global Venture Capitalists 2022.
Disclaimer. All the data collection and research have been carried out by Hurun Research. This report is meant for information purposes only. Reasonable care and caution have been taken in preparing this report. The information contained in this report has been obtained from sources that are considered reliable. By accessing and/or using any part of the report, the user accepts this disclaimer and exclusion of liability which operates to the benefit of Hurun. Hurun does not guarantee the accuracy, adequacy, or completeness of any information contained in the report and neither shall it be responsible for any errors or omissions in or for the results obtained from the use of such information. No third party whose information is referenced in this report under the credit to it, assumes any liability towards the user with respect to its information. Hurun shall not be liable for any decisions made by the user based on this report (including those of investment or divestiture) and the user takes full responsibility for the decisions made based on this report. Hurun shall not be liable to any user of this report (and expressly disclaim liability) for any loss, or damage of any nature, including but not limited to direct, indirect, punitive, special, exemplary, consequential losses, loss of profit, lost business and economic loss regardless of the cause or form of action and regardless of whether or not any such loss could have been foreseen.
About Hurun Inc.
Promoting Entrepreneurship Through Lists and Research
Oxford, Shanghai, Mumbai, Sydney, Paris
Established in the UK in 1999, Hurun is a research, media and investments group, promoting entrepreneurship through its lists and research. Widely regarded as an opinion-leader in the world of business, Hurun generated 6 billion views on the Hurun brand last year, mainly in China and India.
Best-known today for the Hurun Rich Index series, telling the stories of the world's successful entrepreneurs in China, India and the world, Hurun's two other key series include the Hurun Start-up series and the Hurun 500 series, a ranking of the world's most valuable companies.
The Hurun Start-up series begins with the Hurun U30s, an awards recognizing the most successful entrepreneurs under the age of thirty, and is today in seven countries. Next up are Hurun Cheetahs, Chinese and Indian start-ups with a valuation of between US$300mn to US$500mn, most likely to go unicorn with five years. Hurun Global Gazelles recognize start-ups with a valuation of US$500mn to US$1bn, most likely to go unicorn within three years. The culmination of the start-up series is the Hurun Global Unicorn Index.
Other lists include the Hurun Philanthropy Index, ranking the biggest philanthropists, the Hurun Art Index, ranking the world's most successful artists alive today, etc…
Hurun provides research reports co-branded with some of the world's leading financial insitutions, real estate developers and regional governments.
Hurun hosted high-profile events in the last couple of years across China and India, as well as London, Paris, New York, LA, Sydney, Luxembourg, Istanbul, Dubai and Singapore. Upcoming events include London on Oct 17, Sydney on Oct 20, Boston on Nov 4, LA on Nov 11, Shanghai on Nov 18 and Dubai in January 2023.
For further information, see www.hurun.net.
For media inquiries, please contact:
Hurun Report
Porsha Pan
Tel: +86-21-50105808*601
Mobile: +86-139 1838 7446
Email: porsha.pan@hurun.net
Grace Liu
Tel: +86-21-50105808
Mobile: +86 136 7195 4611
Email: grace.liu@hurun.net
Hurun Global Venture Capitalists 2022 Half-Year Report
| | | | | | |
| --- | --- | --- | --- | --- | --- |
| Rank | Investor | No. of Investments* | Founded in (Country) | Key Global Leadership | Key Offices |
| 1 | Sequoia Capital | 328 | USA | Roelof Botha,Neil Shen | Menlo Park, Beijing, HK, Shanghai, Singapore |
| 2 | SoftBank | 217 | Japan | Junichi Miyakawa | Tokyo,London, San Carlos, Shanghai, Hong Kong, Mumbai, Minato, Riyadh, Singapore, Abu Dhabi |
| 3 | Tiger Global Management | 196 | USA | Scott Shleifer, Chase Coleman | New York |
| 4 | Tencent | 122 | China | Liu Chiping | Shenzhen |
| 5 | Accel | 115 | USA | Jim R. Swartz, Arthur Patterson | Palo Alto, San Francisco, Bengaluru, London |
| 5 | CICC | 115 | China | Shan Junbao | Beijing |
| 7 | Y Combinator | 111 | USA | Jessica Livingston | Mountain View |
| 8 | Andreessen Horowitz | 110 | USA | Ben Horowitz | Menlo Park, New York, San Francisco |
| 9 | Insight Partners | 109 | USA | Jeff Horing | New York |
| 10 | Lightspeed | 92 | USA | Peter Nieh, Barry Eggers, Ravi Mhatre, James Mi. Herry Han, Ron Cao | Menlo Park, Tel Aviv, Shanghai, Beijing, Hong Kong, London, Singapore |
| 11 | Goldman Sachs | 91 | USA | David M. Solomon | New York,Beijing,HK,Shanghai,Shenzhen,Tokyo |
| 12 | Hillhouse Capital | 85 | China | Zhang Lei, Tracy Ma, Luke Li, Michael Yi | Beijing, New York, Singapore, Hong Kong, Shanghai |
| 13 | IDG Capital | 83 | USA | Jim Breyer,Hugo Shong,Justin Niu,Yu Xinhua,Li Xiaojun,Li Ying | New York, Boston, London, Beijing, Guangzhou, HK, Shanghai, Shenzhen, Macau, Seoul, Hanoi, Ho Chi Minh |
| 13 | Matrix Partners | 83 | USA | Paul Ferri, Antonio Rodriguez, Dana Stadler, Diana Berlin, Ilya Sukhar, Jake Jolis, Kojo Osei, Matt Brown, Patrick Malatack, Stan Reiss, David Skok, Andrew Verhalen, Tim Barrows, David Zhang, David Su, Shao Bo | San Francisco, Cambridge, Palo Alto, Beijing, Shanghai, HK, Mumbai |
| 15 | Temasek Holdings | 82 | Singapore | Dilhan Pillay Sandrasegara | Singapore |
| 16 | Coatue | 80 | USA | Kris Fredrickson | New York |
| 17 | GGV Capital | 78 | USA | Jixun Foo,Jenny Lee,Hans Tung,Eric Tung,Eric Xu | Menlo Park, Beijing, Shanghai, San Franciscoa, Singapore |
| 18 | General Catalyst | 76 | USA | David Fialkow | Cambridge |
| 19 | GV | 75 | USA | David Krane | Mountain View |
| 20 | SV Angel | 71 | USA | Ron Conway | San Francisco |
| 20 | Founders Fund | 71 | USA | Peter Thiel, Brian Singerman, Keith Rabois, Lauren Gross, Scott Nolan, Trae Stephens, Napoleon Ta, Matias Van Thielen | San Francisco |
| 22 | Index Ventures | 67 | USA | Neil Rimer | San Francisco |
| 22 | Bessemer Venture Partners | 67 | USA | David Cowan | Redwood City |
| 24 | Qiming Venture Partners | 59 | China | Gary Rieschel,Duane Kuang,Nisa Leung,William Hu | Shanghai, Beijing, Hong Kong, Suzhou |
| 25 | BlackRock | 52 | USA | Larry Fink | New York |
| 25 | New Enterprise Associates | 52 | USA | Mohamad Makhzoumi | Menlo Park, Cambridge, Chevy Chase, Lutherville-Timonium, |
| 25 | CITIC | 52 | China | Zhang Yichen | Hong Kong, Shanghai, Beijing, Shenzhen |
| 28 | Fidelity | 51 | USA | Abigail Johnson | Boston |
| 28 | Salesforce Ventures | 51 | USA | Marc Benioff | San Francisco |
| 30 | Khosla Ventures | 49 | USA | Samir Kaul | Menlo Park |
| 31 | General Atlantic | 48 | USA | William E. Ford | New York |
| 31 | Alibaba | 48 | China | Toby Xu | Hangzhou |
| 31 | Spark Capital | 48 | USA | Santo Politi | San Francisco |
| 34 | DST Global | 47 | Russia | Saurabh Gupta | San Francisco |
| 35 | Dragoneer Investment Group | 46 | USA | Marc Stad | San Francisco |
| 35 | Battery Ventures | 46 | USA | Chelsea Stoner | Boston |
| 37 | 500 Startups | 45 | USA | Christine Tsai | San Francisco |
| 37 | Kleiner Perkins | 45 | USA | Brook Byers | Menlo Park |
| 39 | Baillie Gifford | 44 | UK | Andrew Telfer | Edinburgh, London, New York, Shanghai, Frankfurt |
| 40 | Shunwei Capital | 41 | China | Lei Jun, Tuck Lye Koh, Cheng Tian, Li Rui, Li Wei | Beijing |
| 41 | FJ Labs | 39 | USA | Jose Marin | New York |
| 42 | Gaingels | 38 | USA | David Beatty | Burlington |
| 42 | YF Capital | 38 | China | Yu Feng | Hong Kong, Shanghai, Beijing, Hangzhou |
| 44 | T. Rowe Price | 37 | USA | Robert W. Sharps | Baltimore |
| 45 | 5Y Capital | 34 | China | Liu qin, Shi Jianming, Chen Lezong | Beijing, Shanghai, Shenzhen, Hong Kong |
| 45 | CDH | 34 | China | Wu Shangzhi, Jiao Shuge, Stuart Schonberger, Hu Xiaoling, Wang Lin, Wang Zhenyu | Beijing, Shanghai, Shenzhen, Singapore, Hong Kong |
| 47 | Thrive Capital | 33 | USA | Joshua Kushner, Kareem Zaki, Jared Weinstein, Nabil Mallick, Miles Grimshaw | New York |
| 47 | Sapphire Ventures | 33 | USA | Nino Marakovic, Jai Das, Steve Abbott, Rajeev Dham, Kevin Diestel, Annalise Dragic, Cathy Gao, David Hartwig, Paul Levine, Anders Ranum, Casber Wang, Andreas Weiskam | Palo Alto, Austin, London |
| 47 | GIC | 33 | Singapore | Chow Kiat Lim | Singapore |
| 47 | Oriza | 33 | China | Fei Jianjiang, Liu Chengwei | Suzhou |
| 51 | Institutional Venture Partners | 32 | USA | Todd Chaffee | Menlo Park |
| 51 | Redpoint | 32 | USA | Tom Dyal | Menlo Park |
| 51 | ICONIQ Capital | 32 | USA | Michael Anders | San Francisco, New York, Palo Alto, Singapore |
| 51 | Norwest Venture Partners | 32 | USA | Jeff Crowe | Palo Alto |
| 55 | InnoVen Capital | 31 | India | Ashish Sharma | Mumbai |
| 55 | Greylock | 31 | USA | Henry McCance | Menlo Park |
| 55 | SCGC | 31 | China | Ni Zewang, Zuo Ding | Shenzhen |
| 58 | Greenoaks Capital | 30 | USA | Neil Mehta | San Francisco |
| 58 | Wellington Management | 30 | USA | Brendan Swords | Boston |
| 58 | Ribbit Capital | 30 | USA | Meyer Malka | Palo Alto |
| 58 | CPE Investment | 30 | China | Liu Lefei, Tian Yu | Beijing, Shanghai, Shenzhen, Hong Kong, New York |
| 58 | Xiaomi | 30 | China | Lei Jun, Lin Shiwei, Jiangwen | Beijing |
| 58 | Alumni Ventures | 30 | USA | Michael Collins | Manchester, Boston, New York, Chicago, Austin, Menlo Park |
| 64 | Bond | 29 | USA | Mood Rowghani | San Francisco |
| 64 | Silicon Valley Bank | 29 | USA | Greg Becker | Santa Clara |
| 64 | CRV | 29 | USA | Reid Christian | Palo Alto |
| 64 | Legend Capital | 29 | China | Zhu Linan, Chen hao, Li Jiaqing | Beijing, Shanghai, Shenzhen, Hong Kong |
| 64 | Zhen Fund | 29 | China | Wang Qiang, Xu Xiaoping, Fang Aizhi | Beijing, Shanghai, Shenzhen, Silicon Valley |
| 69 | D1 Capital Partners | 28 | USA | Daniel Sundheim | New York |
| 69 | 8VC | 28 | USA | Kimmy Scotti | San Francisco |
| 69 | Lenovo Capital | 28 | China | He Zhiqiang, Song Chunyu, Wang Guangxi, Lin Lin | Beijing, Shanghai, Shenzhen, Hong Kong |
| 72 | Silver Lake | 27 | USA | Egon Durban | Menlo Park |
| 72 | TCV | 27 | USA | Rick Kimball | Menlo Park |
| 72 | Menlo Ventures | 27 | USA | Doug Carlisle | San Francisco |
| 75 | G Squared | 26 | USA | Larry Aschebrook | Chicago, San Francisco, Zurich, Greenwich, Miami, Mexico City |
| 75 | Endeavor Catalyst | 26 | USA | Linda Rottenberg, Jackie Carmel, Allen Taylor | New York |
| 75 | Bain Capital Ventures | 26 | USA | Paul Zurlo | San Francisco, Beijing, Shanghai, Hong Kong |
| 75 | TPG | 26 | USA | Jon Winkelried | San Francisco |
| 79 | Alkeon Capital | 25 | USA | Abhi Arun | New York |
| 79 | Coinbase Ventures | 25 | USA | Brian Armstrong | San Francisco |
| 79 | Source Code Capital | 25 | China | Cao Yi, Chang Kaisi, Wu Jian | Beijing |
| 82 | Felicis Ventures | 24 | USA | Aydin Senkut | Menlo Park |
| 82 | Google | 24 | USA | Sundar Pichai | Mountain View |
| 82 | BoxGroup | 24 | USA | David Tisch, Adam Rothenberg, Nimi Katragadda, Greg Rosen | New York |
| 82 | Greenspring Associates | 24 | USA | Ashton Newhall | Owings Mills |
| 82 | Eastern Bell Capital | 24 | China | Yan Li, Mei Zhiming | Shanghai, Beijing |
| 87 | Counterpart Advisors | 23 | USA | Kevin Brown | Los Angeles |
| 87 | Blackstone Group | 23 | USA | Stephen A. Schwarzman | New York, Hong Kong, Beijing, Shanghai |
| 87 | Meritech Capital Partners | 23 | USA | Rob Ward | Palo Alto |
| 87 | B Capital Group | 23 | USA | Howard Morgan | Los Angeles |
| 87 | Warburg Pincus | 23 | USA | Mark M Colodny | New York, Beijing, Berlin, Hong Kong, London, Mumbai, Shanghai, San Francisco, Sao Paulo, Sinapore, Houston |
| 87 | Susquehanna Interational Group | 23 | USA | Wang Qiong | Philadelphia, London, Dublin, Beijing, Shanghai, Hong Kong, Tokyo |
| 93 | Altimeter Capital | 22 | USA | Brad Gerstner | Menlo Park |
| 93 | DCVC | 22 | USA | Zachary Bogue | San Francisco |
| 93 | Global Founders Capital | 22 | Germany | Matthias Müller | Berlin |
| 93 | Gaorong Capital | 22 | China | Zhang Zhen, Gao Xiang, Yue bin | Beijing |
| 93 | Baidu | 22 | China | Li Yanhong, Gaoxue, Li Xiaoyang, Li Xinzhe | Beijing |
| 93 | Fosun | 22 | China | Guo Guangchang, Tang Bin | Shanghai |
| 99 | Sound Ventures | 21 | USA | Ashton Kutcher | Beverly Hills |
| 99 | Citi Ventures | 21 | USA | Arvind Purushotham | San Francisco |
| 99 | Green Pine Capital | 21 | China | Luo Fei, Li wei | Beijing |
| 102 | CapitalG | 20 | USA | David Lawee | San Francisco |
| 103 | Kohlberg Kravis Roberts | 19 | USA | Henry R. Kravis | New York |
| 103 | Greycroft | 19 | USA | Dana Settle, Ian Sigalow | New York, Los Angeles |
| 103 | Social Capital | 19 | USA | Chamath Palihapitiya | Palo Alto |
| 103 | Eurazeo | 19 | France | Virginie Morgon | Paris |
| 103 | Benchmark | 19 | USA | Kevin Harvey | San Francisco |
| 103 | GP Capital | 19 | China | Deng Weili, Xiao Gang | Shanghai |
| 103 | Meituan | 19 | China | Wang Xing, Zhu Yonghua, Cheng Shaohui | Beijing, Shanghai, Xiameng |
| 110 | DFJ Growth | 18 | USA | Tim Draper | Menlo Park |
| 110 | American Express Ventures | 18 | USA | Matt Sueoka | Palo Alto |
| 110 | FundersClub | 18 | USA | Alex Mittal | San Francisco |
| 110 | Franklin Templeton Investments | 18 | USA | Jennifer M. Johnson | San Mateo |
| 114 | Durable Capital Partners | 17 | USA | Henry Ellenbogen | Chevy Chase |
| 114 | Atomico | 17 | UK | Niklas Zennström | London, Paris, Beijing, Sao Paulo, Stockholm, Tokyo |
| 114 | Glynn Capital Management | 17 | USA | John Glynn | Menlo Park |
| 114 | AME Cloud Ventures | 17 | USA | Jeff Chung | Palo Alto |
| 114 | Foundation Capital | 17 | USA | Bill Elmore | Palo Alto |
| 114 | Initialized Capital | 17 | USA | Garry Tan | San Francisco |
| 114 | EDBI | 17 | Singapore | Chu Swee Yeo | Singapore |
| 114 | QED Investors | 17 | USA | Frank Rotman, Nigel Morris | Alexandria |
Source: Hurun Research Institute; *Unicorns and Gazelles

Appendix 1: Unicorn Investors Top 100

Appendix 2: Gazelle Investors Top 50